PART I: THE PRESENT CRISIS
It would come to be called Holy Saturday.  For the disciples it felt like anything but.  They had run away, literally and figuratively, from their Lord in the garden.  Now they are holed up in a locked room somewhere in Galilee, in grief and shock, praying that this will all pass soon.  They want to just get back to "normal", to their fishing nets, their account books, their quiet and unassuming lives.  This whole Jesus thing had been a wild gamble, a reckless and ill-conceived pipe dream that had blown up in their faces.  Now their "savior" was dead and their hopes for the future with him.  If they could escape from this predicament with their lives, they would try to forget that it ever happened and just go back to being the backwater Jews they always knew themselves to be.  There had been false messiahs before Jesus and there would be more afterward.  Now was the time to be sensible and rational.  Living in fear may not be fun, but it is also the best way to stay safe.  All you have to give up is your dreams.
Mary Magdalene had seen where they laid him.  She had laughed bitterly at the irony of this poor carpenter being put to rest in the tomb of a rich man.  The wealthy and powerful had ignored Jesus, and then, when they took notice, they conspired to kill him.  Occupying a rich man's tomb was, perhaps, His way to get the last laugh.  At least it was some solace in this whole miserable affair.  Watching them roll the stone into place, she didn't cry.  She had no more tears to give.  She was filled instead with purpose.  She would go home and prepare the spices to anoint the body.  The past few days she had been at at a loss for what to do; she just felt so powerless.  But this…this was something she could do.  She had some of the necessary ointments and spices in jars; some of the other women had the others.  Thank God it was spring and she could harvest what she was missing.  She would do what she must, just as we all do what we must.  She would anoint the body and then return to her "normal" life.
But Mary knew, just as the disciples did, that there was no going back to "normal".  Everything had changed.  Jesus might be dead, but He was still alive in their minds and in their hearts.  He haunted their dreams.  He had given them a new vision for life, a miraculous and hopeful message of love and radical generosity.  He had obliterated everything they thought they knew about God.  How could they possibly return to "normal"?  Sometimes the world upends all of our comfortable assumptions.  During such times, we cannot go back to the way things were.  We can only move forward.  But how?  How can we go on living when everything we hoped for lies dead on the floor in front of us?  The disciples hid in a room and waited for the sky to fall on top of them.  Mary and the other women planned to muddle through as best they could.  In either case, "abundant life" (John 10:10) was off the table. Wherever Jesus might be, He wasn't there.  The disciples, Mary Magdalene, even Jesus' own mother, were alone.
PART II: THE HIDDEN WORK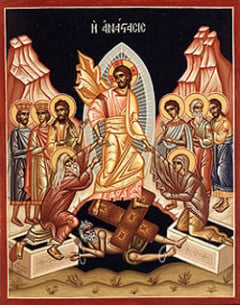 Meawhile, Jesus was in hell.  He "descended first into the lower parts of the earth" (Eph. 4:9, KJV) where "he went and proclaimed to the spirits in prison" (1 Pet. 3:19) and "preached even to those who are dead" (1 Pet. 4:6).  The Apostles Creed puts it bluntly: "he descended into hell" (sometimes translated "the dead" for our delicate modern ears).  It sounds even better in the Latin of the Athanasian Creed: descendit ad inferos (descended into hell).  All well and good, but it begs the question: what in God's name is He doing down there?  The one guy who actually deserves to go to heaven is in hell?  Talk about the death of hope!  Yet it is here, in the depths of hell itself, that we find the first glimmers of new life.
Let me be clear: what exactly Jesus was up to during that holy Saturday is speculation.  However, we know that before Christ there was no salvation, even for the most faithful of the Jewish patriarchs.  The Law and the whole sacrificial system simply existed to remind people of their sins and the holiness of God.  In the blunt words of Hebrews, "it is impossible for the blood of bulls and goats to take away sins" (10:4).  So what happened to faithful Jews who did their best to follow God?  Well, according to the Old Testament, they ended up in sheol a.k.a. "the grave".  Where is that?  I haven't the foggiest idea.  Jesus himself refers to "Abraham's bosom" in Luke 16:22 during the parable of the rich man and Lazarus, but that doesn't really clear things up either.  The sense is that sheol was some sort of prison or holding pen, which sounds a bit like hell to me.  Perhaps the patriarchs and prophets were huddled together just as the disciples were, wondering when God would show up and fearful of what could come next.  The arrival of Jesus in both these locked rooms came, to say the least, as a shock.
This whole episode is known in Christian theology as the Harrowing of Hell.  It upends the idea that Jesus' resurrection power began on Sunday morning.  He was already busy liberating prisoners, defeating Satan, and raising the dead on Saturday.  In the icon above, you can see Jesus hauling Adam and Eve out of the grave while various Old Testament figures (and John the Baptist) look on.  That icon is symbolic of Christ saving all of humanity from hell (as represented by our primordial father and mother), but it also might be literal.  This certainly seems to be implied by Matthew's account of the moments after Jesus' death on the cross: "And behold, the curtain of the temple was torn in two, from top to bottom. And the earth shook, and the rocks were split. The tombs also were opened. And many bodies of the saints who had fallen asleep were raised, and coming out of the tombs after his resurrection they went into the holy city and appeared to many" (27:51-53).  Christ's resurrection power began at the moment of His death.  He was never, not for one moment, defeated.  The moment of His greatest humiliation and weakness was also the moment of his greatest triumph.  The harrowing of hell was fait accompli from the second that the devil made the mistake of killing Our Lord.
So while the disciples were huddled in fear behind locked doors and the women were preparing to anoint the dead body, Jesus was doing a hidden work.  Christ is here to chew bubblegum and save souls, and He's all out of bubblegum.  Salvation is what Christ does; it's who He is.  Just because His followers could not see Him working did not mean that He had stopped doing His work.  Emmanuel, God-with-us, never stopped being with those whom He loved.  He was just working in unexpected and hidden ways.  He left the disciples alone on earth (for all of 36 hours or so) to accomplish an even greater work than they could possibly imagine.  It is true that the disciples had buried all their hope with the dead body of their Savior.  But that was actually good news.  Because their hope was too small, their vision too limited.  God's plan was far greater than they could possibly see with mortal eyes.  And in the dark of that early Sunday morning, Christ would complete His plan and bring it (and Himself) back to the earth.
PART III — HOPE
So what is hope, that thing with feathers?  Well, that's far too big a topic to append to the conclusion of a blog post.  It's tricky because, of course, we can't see it.  As Paul puts it, "for in this hope we were saved. Now hope that is seen is not hope. For who hopes for what he sees? But if we hope for what we do not see, we wait for it with patience" (Rom. 8:24-25).  Hope, by definition, always exists in the future.  We never achieve "hope" because it always runs ahead of us, disappearing like a mirage as we reach it.  I'm reminded of the conclusion of The Great Gatsby: "Gatsby believed in the green light, the orgastic future that year by year recedes before us.  It eludes us then, but that's no matter — tomorrow we will run faster, stretch our arms farther….And one fine morning —  So we beat on, boats against the current, borne back ceaselessly into the past."
One verse of Scripture that seems demonstrably false is this one: "Now hope does not disappoint, because the love of God has been poured out in our hearts by the Holy Spirit who was given to us" (Rom. 5:5 NKJV).  But hope does disappoint, all the time.  It's all well and good to have God's love and the Holy Spirit.  But whence hope?  We hope and pray that the child with cancer does not die, and they die anyway.  We hope that we can defeat our addictions only to fall into them time after time.  We hope for economic security and health only to see a global pandemic kill the most vulnerable and destroy the economy.  Hope disappoints again and again and again and again.  It is foolish to hope, for at best you will look stupid and at worst you will be ruined.  The best course of action is to hide away as best you can, give up on your dreams, and just try to survive.  That is the nature of life on this earth: nasty, brutish, and short.  Why does God keep promising to fulfill our hopes when He clearly has no intention of following through?  Why does He say that He will be "with us always" (Matt. 28:20) when He abandons us at the hour of our greatest need?  There is a storm and the sea is so big and our boat is so small.  And Jesus is just laying there, fast asleep.
Perhaps the answer to this conundrum is to read the verse in context (a radical notion!).  Here is the whole passage (Rom. 5:1-11 ESV):
Therefore, since we have been justified by faith, we have peace with God through our Lord Jesus Christ. Through him we have also obtained access by faith into this grace in which we stand, and we rejoice in hope of the glory of God. Not only that, but we rejoice in our sufferings, knowing that suffering produces endurance, and endurance produces character, and character produces hope, and hope does not put us to shame, because God's love has been poured into our hearts through the Holy Spirit who has been given to us.

For while we were still weak, at the right time Christ died for the ungodly. For one will scarcely die for a righteous person—though perhaps for a good person one would dare even to die— but God shows his love for us in that while we were still sinners, Christ died for us. Since, therefore, we have now been justified by his blood, much more shall we be saved by him from the wrath of God.  For if while we were enemies we were reconciled to God by the death of his Son, much more, now that we are reconciled, shall we be saved by his life. More than that, we also rejoice in God through our Lord Jesus Christ, through whom we have now received reconciliation.
Like the disciples, our hope is set on the wrong things.  We hope to "get back to normal".  We hope for prosperity, health, fulfilling labor, family, friendship, and all the rest.  None of these are necessarily bad things; most are good.  But if we set our hope on them, they will disappoint us and put us to shame.  Our hope lies in the fact that through our faith in Christ, by the power of his death and resurrection, we have peace with God.  In the verses right before the verse I just attacked, Paul discusses how we must rejoice in suffering.  He had no illusions about the nature of life, and how our little hopes can be dashed.  But he points us higher, toward our living Hope.  As Peter put it, "Blessed be the God and Father of our Lord Jesus Christ! According to his great mercy, he has caused us to be born again to a living hope through the resurrection of Jesus Christ from the dead" (1 Pet. 1:3).  Even if everything around us is falling apart, we know that God is doing a hidden work.  "So we do not lose heart. Though our outer self is wasting away, our inner self is being renewed day by day" (2 Cor. 4:16).  We cannot change our circumstances — we can only control how we react to them.  Having hope, putting our faith in the solid rock of Christ amid the shifting sands of this world, is an intentional act.  That hope, the hope we choose, does not disappoint and will not put us to shame.
To be totally honest, I was struggling mentally and spiritually even before COVID-19 made its unwelcome appearance.  My prayer life had dried to nothing; my Bible was collecting dust; I was irritable and withdrawn from my family and the world at large.  I still feel disconnected from the world, like I'm looking at everything through a pane of glass or a dense fog.  I'm just marking time, trying to cobble together some semblance of "normal".  But I'm afraid that ship has sailed.  I say all of this to show that I'm no expert in hope and certainly not someone you should come to for advice on how to handle this crazy time.  But I'm trying to have hope.  And it seems to me that this pandemic makes our situation clearer than ever.  We are living in Holy Saturday, in a time between the death of our false hopes and the realization of our true Hope.  How this will all play out is anyone's guess.  But we must learn to set our hope not on what is seen but what is unseen. "For the things that are seen are transient, but the things that are unseen are eternal" (2 Cor. 4:18b).  Jesus has a way of showing up in locked rooms to those who are quarantined, for whatever reason.  Let us wait in eager anticipation of His arrival.